Perhaps the biggest hurdle to understanding existing customer behavior is identifying the customers with the highest loyalty and finding the key to achieving and maintaining higher customer retention rates.

It is widely known in marketing methodologies that customer loyalty is beneficial to the business.

But how do you quantify customer loyalty in the first place?

Our idea is this. Every company has a framework that can be used as a way to approach customer loyalty. However, the importance of royalties depends on the actual business model.

First, let's review the definition of royalties.

Brand satisfaction is not loyalty.

Even if the NPS number is high, it cannot be said that the royalties are high.

The first two show the psychological connection that a customer has to a product or brand.

It is a motivation to promote loyalty, but it can be said that it is not a direct indicator of loyalty.

And brand attachment, affinity, and brand value aren't loyalty either.

"Emotional" loyalty and loyalty are two different things. They are all psychological, that is, emotions.

So what is royalties? It is ultimately "action."

I want you to think about it by replacing it with your daily life. How do you determine the loyalty of your partner, your people, or your favorite athlete?

Perhaps it is their actions, not what they feel, that we base our loyalty on.

We believe the same can be said for marketing.

Customer loyalty is determined by customer behavior.

Here are two indicators that are useful for measuring royalties.
• Continuity: Sustainability of customer buying behavior for a particular brand
• Required investment costs: Effective incentives to sustain customer buying behavior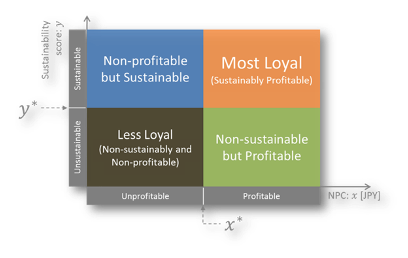 Statistical methods such as survival analysis and customer data analysis can predict the continuity of brand engagement for each customer on an individual basis.

In addition, it examines the history of marketing investment costs, incentives, and discounts spent on each customer.

In addition, the value of marketing measures in inducing consumer behavior can be relatively evaluated and understood.

In other words, customers who retain engagement even with less effort on the part of the brand have higher behavioral loyalty.

Naturally, there are various factors that generate royalties, such as NPS figures, product prices, and locations.

And very importantly, each of these factors determines how sustainable competitive advantage is created.

But understanding why loyalty is retained reveals not the customer retention itself, but the loyalty driver or risk factor.

Only after understanding the driver can it be used in CRM, that is, customer relationship management.

What we advocate for all clients is:
• Defining the importance of loyalty in the business arena
• Quantifying existing loyalty as appropriately as possible to identify the highest value customers
• Understanding customer loyalty drivers and risks
• Engage with a comprehensive approach:
1. Business core: Based on the value of loyalty and implement it for customers who need investment measures
2. Customer core: Manage drivers and reduce risk